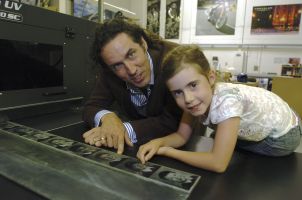 10/09/2008
Gavin steeled for challenge of the Stadium
Bletchley firm wins contract for mammoth task
by Steve Larner, Milton Keynes Citizen
MILTON Keynes' ambitious Ring of Steel is forging ahead after a nationwide search for someone to knock it into shape ended – on stadium:mk's doorstep!
And the project to see more than 40,000 faces photographed and turned into a permanent public work of art has got a new face of its own at the helm.
Gavin Anderson, the man behind last year's sensational celebrations marking The Queen's visit and the FringeMK arts festival, has been appointed project director to use his knowledge and enthusiasm to bring it to completion.
Ring of Steel is driven by Milton Keynes Council public art team and stadium:mk and supported by the Citizen and MK Dons' Sports and Education Trust.
The finished piece of art will be a ring of steel pictures of members of the public circling the concourse level of the stadium.
Artist Gordon Young will crop each portrait – with 26,000 school children already snapped – and immortalise them in metal.
The hunt was then on to find a firm able to do it.
Incredibly only ICON Graphics at Denbigh West, Bletchley – a stone's throw from the stadium– was up to the mammoth task. They now have the job of transferring all the photos onto 4mm steel.
This week Gavin went along to ICON Graphics with daughter Mia, one of the thousands of children whose photographs have already been taken, to see how work is progressing.
"We are creating history and I am proud to be asked to be involved," he said.
Many people have already had their photos taken along with the many thousands of schoolchildren and have been eagerly awaiting news of the project.
Letters are now being sent out explaining that the next step will see the installation of more than 40,000 faces beginning in November, and will take the best part of a year in up to seven phases.
Also starting is the final phase of fund-raising with companies large and small across Milton Keynes being invited to have their staff photographed and included in the Ring of Steel project.
Already thecentre:mk, English Partnerships and Buckingham Group – which built stadium:mk – are on board.
Each donation of £30 per portrait enables the faces of two schoolchildren to be put up and companies with a staff of more than 500 will have their donation recognised on a plaque in the stadium main entrance.
"Projects like the Ring of Steel are not attempted because they are easy," Gavin said. "There are challenges still as we move forward but the challenges are overshadowed by what we will be creating."